Solar CCTV Trailers
MC-5000 Series
The
Mobile Cameras

MC-5000 Series
MOBILE CCTV CAMERA TRAILER


SOLAR/DIESEL BACKUP

The Mobile Cameras MC-5000 series are a cost-effective and affordable solution designed for long-term surveillance in both urban and rural areas.

These units utilise 7 state of the art mobile CCTV camera trailers with a 45x zoom primary camera designed to provide the operator with a close up view of any incident or event. With three high capacity solar panels and an automatic kick in 3kva generator it is a set and forget solution for all your needs.

Our trailers are designed to transmit live video through the 4G-phone network which can be remotely and securely accessed from any authorised computer or mobile compatible device from around the world. All video is recorded on an internal state of the art hard drive for backup purposes. We can provided a 24hr monitoring services if required.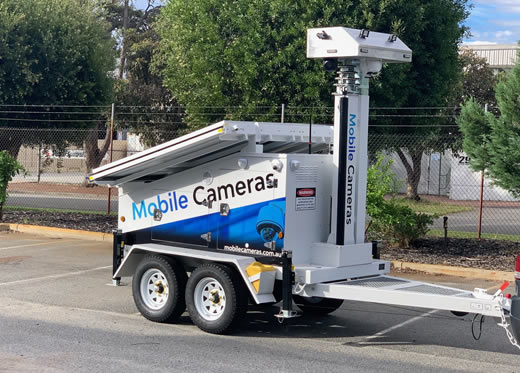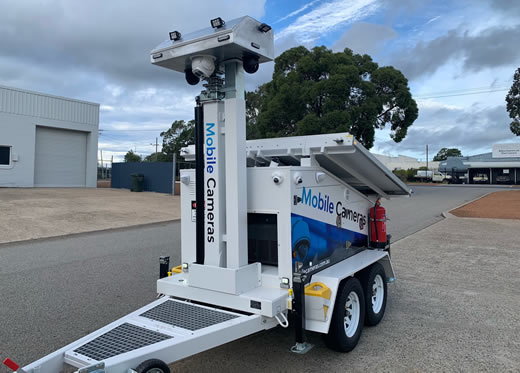 CUSTOM DESIGNED TRAILERS BY EXPERTS IN THE FIELD
Mobile CCTV Camera Trailers have been designed and are operated by experts in the surveillance field with over 30 years experience in the Police and Security industry. Nothing has been left to chance with high quality Pan/Tilt/Zoom cameras up to 45 x Optical zoom and a high quality Windows operating system through a boosted Telstra network and powered by 4 massive solar panels with a 3.5kva diesel generator. We joke sometimes that we could power a small city with one of the trailers.
Why have we designed our Mobile CCTV Camera Trailers to such a high spec? Because we know what the customer wants and that's reliability and the ability to see and record exactly what is happening in the selected area of operation.
MOBILE CCTV CAMERA TRAILER AVAILABLE FOR RAPID DEPLOYMENT
Mobile Cameras offer short, mid and long-term solutions for all your business needs. We do not simply drop a trailer off at the area of operation. We work with our clients to identify the issue, choose the best options based on the requirements, and meet their budget requirements. We also sell fully functional trailers designed to meet the requirement of each customer.
We provide:
360' Vision from 3 seperate PTZ cameras– infrared flood to 100 metres
9 Metre Mast providing panoramic views
4 high powered solar panels with hydraulic trim adjustment
3.5 Kva Diesel backup generator
360' PIR and Fixed Camera Tamper Detection
Boosted 4G reception and transmission through Telstra approved repeaters
PA System – remote communication
360' Flood lighting with audible siren and strobe
Telephone and email support 24/7 to customers.